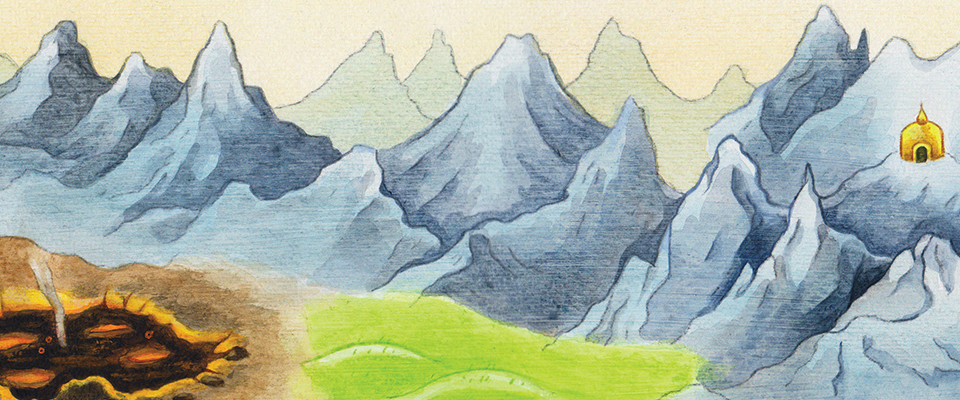 Ferverax and the Valley of Gleam
A downloadable T&T adventure
Ferverax and the Valley of Gleam is a Tunnels & Trolls adventure originally written for convention play. It is designed to move very quickly and allows low-level characters the opportunity to level up several times by drinking from magical fountains, then to tackle the evil sorcerer Ferverax (and his pet lizard-griffin Scabby) once they feel ready.

Featuring:

A lush hand-painted map of the play area by Andrew Walter!
A crappy map scrawled in pen on a pink index card also by him!

Three new magic items!

Some lethal new monsters!

An invisible castle (not pictured)!

Kerr-azy characters!
This adventure uses the 5th edition T&T rules with a couple of very common houserules (WIZ and Spite Damage) but is 100% compatible with the newest version of the game.
If you're new to T&T, you can get the free version of the rules here.
Download
Click download now to get access to the following files:
ferverax_and_the_valley_of_gleam_v1.pdf
2 MB
ferverax_and_the_valley_of_gleam_map_hires.png
50 MB
Comments
Log in with itch.io to leave a comment.
I've never played T&T (but want to). This looks killer. Great work.
Thanks Ray! It seems odd to describe T&T as 'underrated' considering it's probably the second ever RPG and basically seems to have invented the idea of solo gamebooks, but here we are...